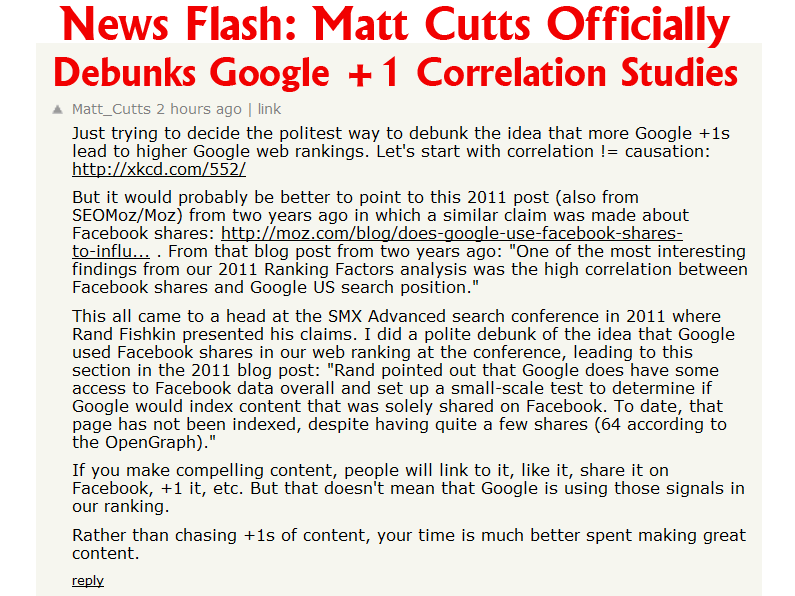 Spændende. Selvom man selvfølgelig aldrig skal tage Cutts ord helt bogstavelige.
Originally shared by Joshua Berg
Matt Cutts Officially Debunks Google +1 "Correlation" Studies.
I've been saying for a while now that Google +1 is not a serious ranking factor, but that the power of Google+ SEO comes from PageRank in Google+ which is passed the way PR always has, through links & in Google+ that comes in the form of shares, embedded links, +mentions & even external links back to G+.
Somehow the +1 Baby just would not go to bed and the theories were revived with a series of correlation studies a few weeks ago, which I mostly just ignored.
Finally though (kinda overdue), Matt Cutts came out with the following post 2 hours ago and you can read the following threads here.  news.ycombinator.com/item?id=6243451
Google Plus can however, be a very powerful search ranking factor. It just doesn't come automatically, through activities like +1. It comes from Google+ Authority you build up in the form of PageRank. It doesn't happen on a single day, or a single post (yes, even if it goes Hot). The Google+ PageRank is built up over time and comes especially from, other authorities.
Wasn't gonna go into all of this today, but since Matt brought it up, I thought it would be a good time to explain. So if you really want to dive into depth to see where the power of Google+ SEO, or what I also call #SMOforSEO and #SocialSEO comes from, then you can read my PageRank in Google+ series here…
▔▔▔▔▔▔▔▔▔▔▔▔▔▔▔▔▔▔▔▔▔▔▔▔▔▔▔▔
Pt 1: Is Google+ Page Rank the culprit behind the current …
Pt 2: How PageRank in Google+ is Earned. G+ Link Myths…
Pt 3: Why PR in G+ Matters To You & Your Connections.
Pt 4: PR in G+ – PageRank is Still Guts of Google Search.
Pt 5: PageRank, Link Juice & SEO for Google+ Communities.
Pt 6: Balance Returns to PageRank. Avoid The Dark Side.
[Update: HOA PageRank – Executive Summary video.]
http://goo.gl/vOUhE (with Mark Traphagen & Ronnie Bincer)